ART PRINTS

LIMITED EDITION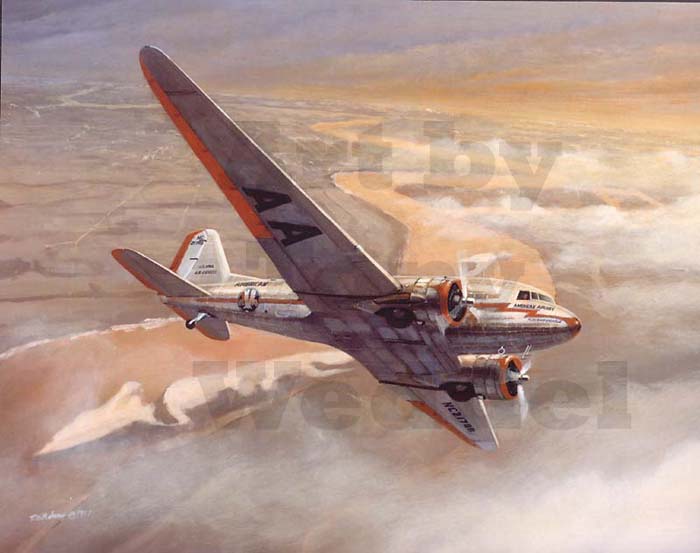 Flagship Knoxville
by
Tony Weddel & Tom Adams
The Douglas DC-3 formed the backbone of American Airlines during the 1940s and 1950s. Reliable, durable, virtually indestructible, it was a familiar sight at most every commercial airport. Proudly carrying the colors of American Airlines, the Flagship Knoxville can be seen today on permanent display at the C.R. Smith Museum in Ft. Worth, Texas.
Tony Weddel and Tom Adams have depicted the Knoxville in flight as it passes over the Mississippi River. This exquisite painting is now available as a 22" x 28" limited edition, signed and numbered print for the discriminating collector of aviation art.
"Flagship Knoxville" is also available in a conven ient 8" x 10" open edition print. Price is a gift friendly $10.00 including shipping and handling worldwide.
To safely order with your credit card, click the appropriate order button. Your credit card will be processed thru PayPal and will be charged $34.95 plus $10.00 ($15.00 foreign) shipping and handling. Total charge for the 8" x 10" print will be $10.00.
While we make every effort to ship within ten days, we ask that you allow up to six weeks for delivery.
NOTE: Your browser must be enabled to accept "Cookies".
DOMESTIC U.S. and POSSESSIONS ONLY
NON-U.S. ORDERS USE THIS ONLY
8" x 10" PRINT ORDERS ONLY
TO VIEW CONTENTS OF YOUR SHOPPING CART, CLICK THE BUTTON BELOW.
Close this window to return to the previous page.