AVIATION HISTORY/REFERENCE

ALSO AVAILABLE AS AN ISO DOWNLOAD. BURN YOUR
OWN CD-ROM FROM THE DOWNLOADED FILE. IMMEDIATE DELIVERY. SAVE MONEY! AVOID HIGH POSTAL RATES! NO WAITING ON THE MAIL!

CLICK HERE TO ORDER DOWNLOADS. SCROLL DOWN TO THE 'BUY NOW' BUTTON TO ORDER A STANDARD DISC.
A UNIQUE REFERENCE SOURCE FOR LOVERS OF THE IMMENSE AND MAGNIFICENT CONSOLIDATED B-36 PEACEMAKER... STILL THE LARGEST MANNED BOMBER EVER BUILT.
875 BLACK-AND-WHITE PHOTOS.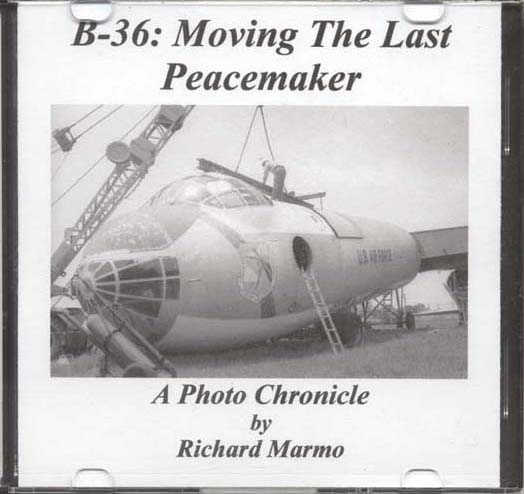 B-36: Moving The Last Peacemaker
SPG-0002 $15.95 US/$24.95 Foreign
DISK FEATURES:
875 Black-and-white photos taken over a nine year time span.
Detail shots of areas that normally would never be seen after construction.
Disk subject is the Last of 383 operational aircraft built and one of only four remaining in the world. Powered by a hybrid propulsion system consisting of six aft-facing reciprocating engines and four turbjets which were contained in two wing-mounted pods. This aircraft was capable of attaining altitudes in excess of 50,000 feet with a maximum gross take-off weight of 410,000 pounds.
Disk designed as a self-contained, self-running slide show.
Simply place in your computer's CD-ROM drive and enjoy.
Best viewed at a resolution of 800 x 600 pixels and 16 bit (millions of colors) color.
LIST PRICE: $15.95 US/$24.95 Foreign.
To safely order with your credit card, select the appropriate location and click on the button you see below. Your credit card will be processed thru PayPal and will be charged only the selected amount.
NOTE: Your browser must be enabled to accept "Cookies".